Thermal Imaging Camera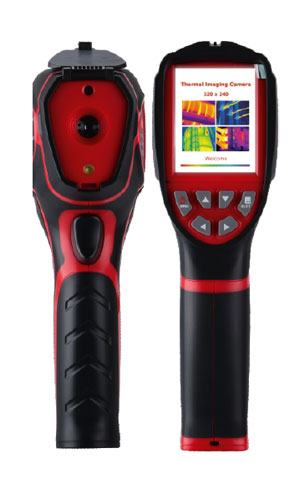 TG-305

Introduction
Thermal Imager is designed for Non-contact detection and calculation of apparent surface temperature, and the thermal image creation is based on the temperature variation. Imager Thermometers provide fast and accurate readings for most surface temperature measurements with TFT color LCD display & Imager Video format. Built for tough work environments, these high-performance, fully radiometric imagers are ideal for troubleshooting electrical systems, electro-mechanical equipment, process equipment, HVAC/R equipment and others

Application
• The inspection of electric equipment, lines of transmission and transformers
• Search of concealed fire source in fire control
• Personnel search and rescue and commanding at fire site
• Make analysis of the leakage position and heat loss of thermal pipeline and heating equipment
• Determine the position of heating failure of the operation train
• Analysis of rationality of wire of microelectronic industry
• Night monitoring of security departments.

Functions
• With small volume, the product is easy to operate and has strong function. it is the ideal selection for electric power, electronic manufacturing, Industrial inspection and other fields.
• With a visible light camera. The thermal images and visible images are stored in the device and can be read through USB.
• The radiation coefficient may be adjusted to increase the measurement accuracy of objects with half reflection surface.
• The highest temperature and lowest temperature cursor may guide the users to the areas with highest and lowest temperature of the thermal images.
• The selectable color palette.

Specifications
• Infrared image resolution : 320x 240
• Temperature measurement range : -20° C~300° C(-4° F~572° F)
• FOV/Shortest focal length : 56° x 42° / 0.5m
• Measurement accuracy : ±2 °C/ ±2%
• Display screen : 2.8-inch full-view TFT display
• Visible image resolution : 300,000 pixel
• LCD resolution : 320x 240
• Thermal sensitivity : 70mk
• Emissivity: Adjustable from 0.01 to 1.00
• Frame rate of thermal images : 9Hz
• Wavelength coverage : 8-14mm
• Focus mode : Fixed
• Color palette : Rainbow, iron oxide red, cold color,black & white, white & black
• Storage capacity : Built-in 3G (above 20 thousand image stored
• File format : JPG
• USB : Micro USB 2.0
• Power Supply : Built-in chargeable 18650 battery
• Working Time: 2-3 hours
• Automatic power-off time : Selectable: 5 minutes/20 minutes/not power off automatically
• Setting command : Unit, language, date, time, information
• Operating temperature : 0° C ~ 45° C
• Storage temperature : -20° C ~ 60° C
• Humidity : < 85%RH
• Dimension : Approx. 225x 69.3x 93.7mm
• Weight : Approx. 323g.