Digital Vibro Meter / Vibration Meter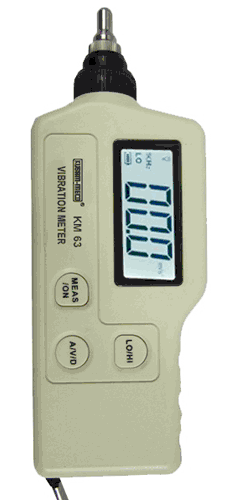 MODEL - KM 63
This product adopts piezoelectric effect of artificial polarized ceramic for design. It is suitable for monitoring of all kinds of vibrating mechanical facility, specially the vibration measurement of rotating and reciprocating machinery. The unit can measure acceleration, velocity and displacement, which is widely used in mechanical manufacture, electric power, metallurgy and general aviation etc. field.

Features :
• Visually displays measurement value & state
• Acceleration, Velocity and displacement measurement
• Different vibration frequency selection
• High sensitivity probe for accurate measurement
• Provides long and short probe head, each one is suitable for different situation measurement.
• Equipped with AC signal output interface
• Low power indication function
• Auto power-off
• Backlight LCD display
• Simple to use, the structure is compact, portable for carrying along with measurement.





General Specifications :
• Display : 3.5 Digits LCD Backlight display.
• Displays update cycle : 1 second
• Output : AC output 2V peak (display full scale) load impedance 10KΩ or more earphones can be connected.
• Static current : ≤ 20mA
• Operating Current : ≤ 25mA
• Operating Temperature : 0 ~ 40°C
• Operating humidity range : 30 ~ 90% RH
• Low battery indication : 6.9V ± 0.2V
• Battery life : Approx. 20H continuous use
• Auto power off : Turns off automatically after 60 seconds.
• Power supply : 9V battery
• Dimension : 67 x 30 x183 mm
• Weight : 182g (including battery)