DC Power Supply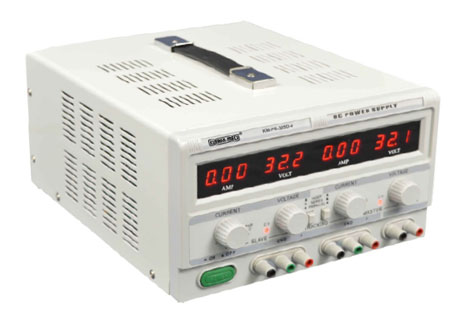 Model KM PS 302D-II /303D-II/305D-II
Features
• Two Adjustable outputs & one 5V / 3A fixed output.
• Two-way regulated power supply can be randomly in series, in parallel or in dependently according to requirements. And do not need external connection, just control by switch.
• Have constant Voltage & constant current operation mode. C.C & C.V convert automatically.
• Low Ripple & Noise.
• 4 groups 3 LED Digital Display.
• Have Current limitation protection.
General & Electrical Specifications
• Input Voltage : 220V ± 10%; 50Hz ± 2Hz or 110V ± 10%; 60Hz ± 2Hz
• Operating Temperature & Humidity : 0°C ~ 40°C; <80%RH.
• Storage Temperature & Humidity : -10°C ~ 70°C; <70%RH.
• Output Voltage : 2 X 0 ~ 30V
• Output Current : 2 X 0 ~ 5A
• Series Voltage / Current : 0 ~ 60V / 0 ~ 5A
• Parallel Voltage / Current : 0 ~ 30V / 0 ~ 10A
• Current Effect : CV ≤ 1x10-4+ 0.5mV; CC≤ 2x10-3+ 6mA
• Load Effect : CV ≤ 1x10-4+ 2mV (output current ≤3A) ≤ 1x10-4+ 5mV (output current >3A) CC≤ 2x10-3+ 6mA
• Voltage Display Accuracy : ±1% + 2 dgts
• Ripples & Noises :
CV≤ 0.5mVrms (output current ≤ 3A)
≤ 1.0mVrms (output current >3A)
CC≤ 3mArms
• Current Display Accuracy : ±2% + 2 dgts
• 5V Regular output power supply :
Nominal output voltage : 5V ± 3%
Nominal output current : 3A
Current Effect : ≤ 1x10-4+1mV
Load Effect : ≤ 1x10-3
Ripples & noises : ≤ 0.5mVrms
• Dimension : 340 x 260 x 155mm