Personal Safety H. V. Detector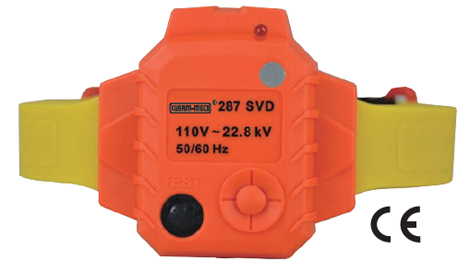 Model 287 SVD
Special Features :
• Compact, easy to wear and convenient in use.
• Usable both indoor and outdoor.
• Water-proof design (IP65)
• Equipped with self-testing functions.
• Able to sense all kinds of AC High Voltage System.
• Low power consumption.
• CE Certified.

General Specifications :
• Distance of starting warning : 85cm for 22.8KV
• Applicable Frequency : 50/60Hz
• Volume: 70dB or higher at 1 meter distance
• Operating Temperature & Humidity: 0°C ~ 40°C / 80% R.H.
• Battery life: 50 hours for continuous use.
• Battery: CR2032
• Outside dimensions: 61(L) x 62(W) x 18.5(H) mm
• Weight: Approx. 70g.(including Battery)