Oxygen Meter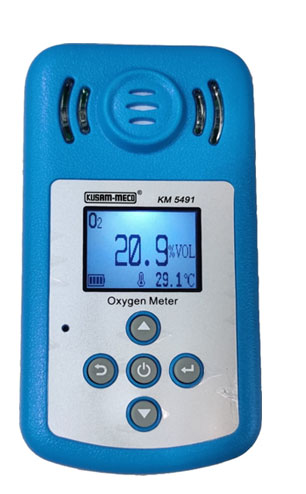 KM 5491

The KM 5491 Portable Oxygen detector is a kind of essential safety instrument which can continuously detect the Oxygen concentration in the working environment. It is suitable for explosion-proof, toxic gas leakage, undergound pipelines or underground mines & other places. The instrument is a natural diffusion method for detecting gas concentration, using high performance electrochemical sensor, with excellent sensitivity & excellent repeatability. The instrument adopts embedded micro control technology, simple operation, complete functions, high reliability.

Features :
● Appearance of light & novel, easy yo carry, easy to operate.
● Menu operation interface, battery power real time display, under Voltage, Low Voltage automatic shutdown.
● Sound, Light & Vibration alarm.


Technical Specifications :
• Sensor Electrochemical Principle
• Detection Gas Oxygen O2
• Temperature Measurement Ambient temperature
• Display Unit O2 : %VOL
• Temperature : °C / °F
• Range O2 : 0 ~ 25%VOL
• Temperature : -15 ~ 50°C
• Resolution O2 : 0.1%VOL
• Temperature : 0.1°C / °F
• Accuracy O2 : ±2.0%F.S.
• Temperature : ±1.5°C
• Response Time : < 15 seconds
• Alarm Sound & light vibration alarm
• Alarm Point
• Low alarm point 19.5%VOL
• High alarm point 23.5%VOL
• Battery Type : 3 AAA Alkaline Batteries
• Operating Temperature : -10 ~ +50°C
• Humidity : 15% ~ 95% RH (Non-condensation)

Manual Online View Catalog Send Enquiry