Grain Moisture Meter, Measure Moisture & Temperature grains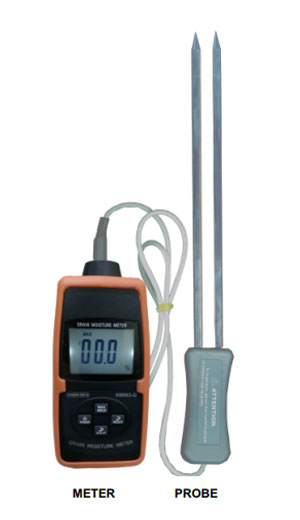 Model KM 963 G

"KUSAM-MECO" Grain Moisture Meter Model KM 963-G incorporates the latest technology for determining the moisture in grains. It complements the family of moisture meters for wood(KM 963) & Paper (KM-963P). It can determine the % moisture in Wheat, Paddy, Rice & Corn. The Instrument consists of sensor which senses the moisture in grains & a microprocessor computes the signal in % which is displayed on the LCD. It is very simple to operate.

A white Backlight large LCD display ensures readings even in dark areas. When a series of measurements are made, it also indicates the MAX value.


Features :
• Moisture Measurement Range : 2% ~ 30%
• Maximum error : ± (1%Rh + 0.5)
• Resolution : 0.5%
• Temperature Measurement Range : -10°C ~ 60°C
• Maximum error : ± 2°C (±4°F)
• Resolution : 1°C / 2°F
• Operating Temperature & Humidity : -10°C ~ 40°C; 0 ~ 70% RH
• Data Hold & Max Hold
• Backlight Display
• Low Battery Indicator.


• The grain Category is represented with 1, 2, 3 & 4 on the screen.
1 Represents for Wheat
2 Represents for Paddy
3 Represents for Rice
4 Represents for Corn
• Power : 5 X 1.5V AAA batteries.
• Weight : 410g (includes the measurement probe & battery)
• Dimensions :
174 X 38 X 73 mm (for main unit)
365 X 25 X 43 mm (for measurement probe)

Manual Online View Catalog Send Enquiry