Flameproof Type Earth Resistance Tester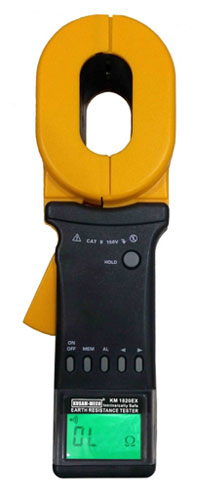 MODEL - KM 1820 EX
Features
1. Explosion-proof products, can be used in the corresponding e nvironment, the shell is made of anti-stat i c engineering plastic and safer.
2. Ex-mark: Exia II BT3Ga, Explosion-proof qualified No.: CE13.2263
3. When measuring the loop earth system, no need to disconnect the grounding down leads, no need w it h auxiliary electrode.
4. Clamp Earth Resistance Tester can measure the ground fault which can't be measured by traditional method, and apply in the situation where traditional methods could not measure.
5. Audible and visible alarm, data memory, data hold functions.

Electrical Specification



Clamp Size 6 5mmX32mm
Clamp Opening Size 32mm
Ex-Mark Ex ia II BT 3Ga
LCD Screen 4-bit LCD digital display, 47mm(L) × 28.5mm(W)
Data Storage 99 unit
Audio-light alarm "beep--beep--beep --" alarm sound. Press "AL" key to turn on and off
Alarm Critical Value Setting Range Resistance:1-199 Ω
Working Temp -20℃-55℃;10%RH-90%RH
Protection Level Double insulation
Structure Clamp CT
Shift Automatic shift
External Magnetic Electric field <40A/m;<1V/m
Single Measurement Time 0.5 s
Resistance Measurement Frequency >1KHz
Power 6VDC (4 PCS alkaline dry battery)
Dimension Approx. 285mm(L)x85mm(W)x56 mm(H)
Weight Approx. 1160gm.
Accessories Test Ring, Batteries, User Manual & Carrying case.