Temperature Calibrators (Thermocouple) with 3 Display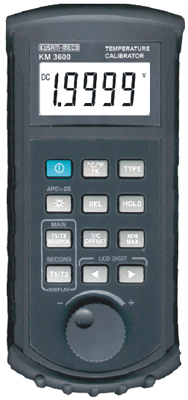 Model KM 3600 (9 Functions 22 Ranges )

This instrument is a 4½ digit, compact-sized portable digital temperature calibrator designed to use external K/J/T/E/R/S/N/L/U/B/C type thermocouples as temperature sensor. The calibrator features a dual thermocouple input, an adjustable T/C offset. The thermocouples types comply with the ( N.I.S.T. Monograph 175 Revised to ITS 90 standard).
Specifications :
• Display : There are three LCD displays Main, Second and Third. The Main and second displays
4½ digit with maximum reading of 19999. The main displays the value of T1, T2 or output setting.
The second displays T1 or T2 readings and the third T1-T2 and groups settings.
• Auto Power Off.
• MAX / MIN / MAX-MIN / AVG / REL / HOLD Function.
• Battery : Standard 9V battery.
• Low Battery Indication : The "

" is displayed when the battery voltage drops below the
operating level.
• Dimension : 192(H) X 91(W) X 52.5(D) mm
• Weight : 318g. Approx.