Digital Frequency Counters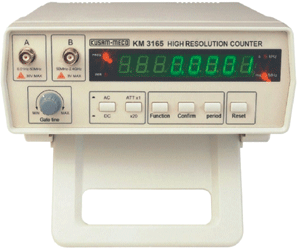 Model - KM 3165 (4 Functions 5 Ranges )
Features
• It is a high-resolution multifunction intelligent frequency counter based on microprocessor technology.
• Frequency, period and equal-precision measurement.
• 3-step function selecton, work state, unit and 8-digit LED display.
• Continuous and adjustable gate time.
• Low frequency and other precision measurement.
• Input attenuation, AC/DC coupling select.