Digital Triaxial ELF Magnetic Field Meter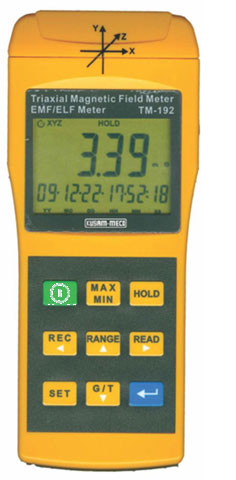 Model - KM 192
High Electromagnetic waves are generated by electric appliances, used in medical institutions, Schools, Residences where people usually stay for a long time. Precautions should be taken to prevent patients, Babies & other citizens from exposure to high electromagnetic waves. An electromagnetic wave means the wave motion of electromagnetic field. It is a form of energy similar to light & heat that can be transmitted by radiation in the air or by an electric conductor.

Features
• Uses three internal orthogonal sensors to test a wide range of ELF magnetic fields,
independent of measurement angle.
• The tester is designed to provide the user a quick, reliable & easy way to measure magnetic
field radiation levels around power lines, home appliances & industrial devices.
• The tester is a cost-effective hand-held instrument that is designed and calibrated to
measure magnetic field radiation at different bandwidths from 30Hz to 2000Hz.
• Display micro tesla (mT) or milli Gauss (mG) units.
• Data hold (HOLD), Maximum Hold (MAX) and minimum Hold (MIN) function.
• Auto range or manual range select mode.
• Time and calendar function.
• Low battery indication "

" .
• Over load display "OL".
• Auto power off function.

General Specifications
• Display : 4 digits Triple LCD Backlight display.
• Range : 20 / 200 / 2000 mG, 2 / 20 / 200 mT
• Resolution : 0.01 / 0.1 / 1mG or 0.001 / 0.01 / 0.1mT
• Frequency response : 30Hz ~ 2000Hz
• Sensor : Triple Axis (X, Y, Z)
• Accuracy : 20 mG / 2mT
±(3.0% + 30dgts) at 50Hz / 60Hz.
±(2.5% + 5dgts) at 50Hz / 60Hz
±(5% + 5dgts) at 30Hz / 2000Hz.
• Over load : LCD display "OL"
• Sample rate : 2.5 times per second.
• Battery : Standard 9V battery
• Battery life : Approx. 100 hours.
• Operating Temperature & Humidity : 5°C to 40°C, below 80% R.H.
• Storage Temperature & Humidity : -10°C to 60°C, below 70% R.H.
• Dimension : 173(L) X 80(W) X 32(H) mm
• Weight : About 230g