3 Terminal Digital Earth Resistance Tester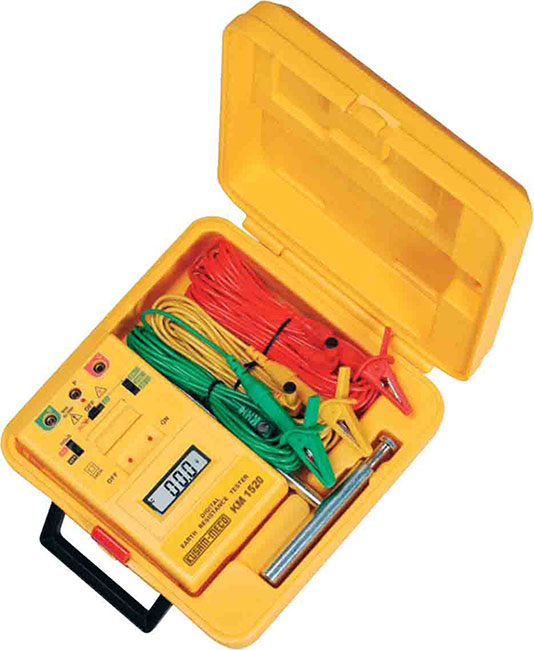 Model KM 1520
KUSAM-MECO Digital Earth Resistance Tester is a very versatile& handy instrument for checking Earth Resistance. It consists of the indicator & set of 3 spikes (stake) and connecting wires. Earth Resistance is measured by putting the spikes in the earth at distance of 5-10m (as shown below) & switching ON the instrument indicates the Earth Resistance directly in ohms.


Features

• Earth Resistance Measuring range : 0-20Ω / 200Ω / 2000Ω
• Measure Earth Voltage (VAC) : 0-200VAC
• Low 2mA measuring current permits earth resistance to test without
tripping earth leakage current circuit breakers in the circuit.
• Capable of measuring earth voltage(Vac).
• Auto power off function. The timer operates automatically about three to five minutes after the"PUSH BUTTON SWITCH" and "Timer ON BUTTON" are pressed together This will keep the test "ON" for about three to five Minutes. Then auto power off..
• Battery operated.
• Dimensions : 100 x 150 x 45 mm. Appx.
• Weight : 350 gms. Approx
• Accessories : Test Leads, Carrying Case, Manual
• Operating Temperature & Humidity : 0 ~ 40 °C; 80% RH Max.
• Storage Temperature & Humidity : -10 °C ~ 60 °C; 80% RH Max.
• Data Hold function.
• Small and light weight
• IEC 1010 CAT III 200V
• Display Back-light
• External probe
• CE-Mark approval


General Specification

• Measurement Ranges :
Earth Resistance : 0-20Ω / 0-200Ω / 0-2000Ω
Earth Voltage : 0-200V AC (40-500Hz)

• Accuracy :
Earth Resistance : ±(2%rdg + 2dgts) or ± 0.1Ω which is greater.
Earth Voltage : ±(1%rdg + 2dgts)

• Earth Resistance Resolution : 0-20Ω (0.01Ω); 0-200Ω (0.1Ω); 0-2000Ω (1Ω)
• Display LCD :- 3½ Digit 2000 counts LCD Back-light display.
• Measurement System : Earth resistance by constant current inverter 820Hz approx. 2mA
• Low Battery Indication : "B" symbol appears on the display
• Data Hold Indication : "DH" symbol appears on the display
• Over Range Indication : "1" (MSD)
• Open Circuit Indication : LED will be unlit
• Power Supply : 1.5 V X 6.Type AA batteries.
• Dimensions : 163(L) X 102(W) X 50(D)mm
• Weight : 480g approx.(battery included)