400A AC Digital Clampmeter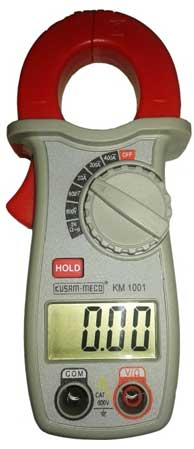 Model KM 1001


KM 1001 Digital Clampmeter is completely portable, 3 ½ Digit LCD display meter. This Clampmeter is designed for us in the Laboratory, Field servicing, at home, under any circumstance where high current measurement is required. This meter is built with a design of finger guard which ensures safety operating & electronic overload protection for all function & range. In addition, a carrying case is available for easy portability of the meter & avoiding damage. Rugged Fire retardant & Shock Resistant casing.

General Specifications
• Display : 3 ½ Digit 2000 counts LCD with automatic polarity indication.
• Measuring Method : Dual-slope integration A/D converter system.
• Over range indication.
• Over load protection : Protected by PTC in the resistance range.
  (protection upto 500V AC RMS).
• Data Hold function : The hold & release for all display data is performed
  alternatively by "D.H" push switch..
• Low battery indication : The "BATTERY" symbol is displayed when the battery
  voltage drops below accurate operating level.
• Continuity function.
• Power Supply : 9V Alkaline or carbon-zinc battery.
• Operating Temperature & Humidity : 0 °C ~ 50 °C; 80% max. R.H.
• Storage Temperature & Humidity : -20 °C ~ 60 °C; 80% max. R.H.

Manual Online View Catalog Send Enquiry