4 1/2 Digit TRMS Bench type DMM with PC Interface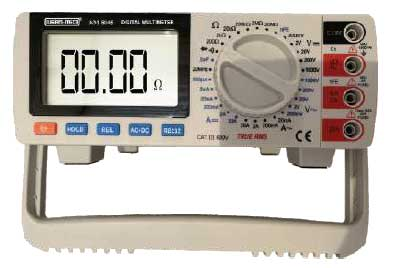 MODEL KM 8045 (10 functions 36 ranges)

Special Features
• 4½ Digit high performance Bench-type DMM, with backlight display.
• It can be used to measure DCV, ACV, DCA, ACA, Resistance, Capacitance, Hz, hFE, Diodes and Continuity.
• The max. Voltage measurement is up to 1000V DC or AC peak value, resolution is 10mV, and current measurement is up to 20A, it also has the function of polarity auto-change, back light display and directly reading.
• For AC measuring, it is performed by high accuracy TRUE RMS, can test the bandwidth of the frequency and the TRUE RMS of any waveform can be accurately measured.
General Specifications
• 4½ digit large LCD display with backlight (displaying range : 75 x 40mm), max reading : 19999.
• Voltage measurement upto 1000V DC and 1000V AC.
• DC, AC current upto 20A.
• ACV frequency response : 50kHz.
• Frequency, Resistance, Capacitance measurement, Triode, Diode test and Continuity test.
• Manual Range
• Overload protection : 250V rms.
• Operating Temperature : 0°C ~ 40°C, <75% R.H.
• Power supply : 220V / 110V AC
• Dimension : 260(L) x 220(W) x 82(H)mm
• Weight : Approx.1kg.
Manual Online View Catalog Send Enquiry