Phase Rotation Tester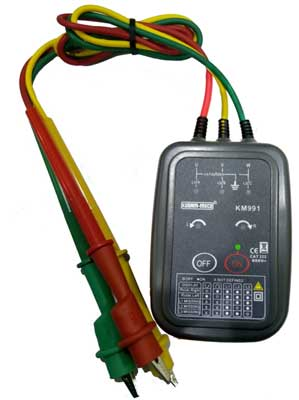 Model KM 991
Features :
• LED Indication Mode.
• 3 phase motor rotation detection.
• Open Phase indication.
• KM 991 is use for quick, easy & accurate detection
of three phase sequence in motor installation & repair.
• Three Phase rotation indication.
• Probe length : 0.6m
• LED indicate rotating status.
• Durable, ergonomic housing.
• Auto Power Off.
Indication :
• Positive CW, R lights up.
• Negative CCW, L lights up.
• Motor Rotation detection.
• Place the tester in accordance with the direction of motor rotation symbol.
• Motor rotates in clock wise direction, R lights up.
• Motor rotates in counter clock wise direction, L lights up.
Safety :
• EN61010-1:2001, EN61010-031:2002
• Pollution degree 2
• Transient overvoltage (6000V).
• CAT III 600V