Intrinsically Safe TRUE RMS Digital Multimeter With PC Interface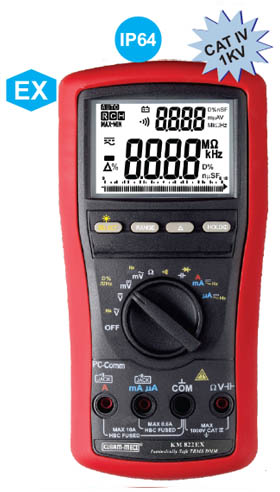 Model KM 822 EX

Special Features

• Splash / Drop Proof
• 1000V AC / DC
• USB Interface
• Dual Display
• Backlit Display
• Intrinsically Safe
• Beep-JackAudible & Visible Input Warning
• Relative Zero Mode
• PC Interface Capability
• Data Hold
• Ex Rating: Ex ib IIA T4 Gb
• 1A / 1kV (IR10kA)for mA & mA (1000V HRC Fuse)
• 11A / 1kV (IR20kA) for A (1000V HRC Fuse)
• These meters comply to IEC SANS 600790:2000 & IEC SANS 60079-11:1999,
which is applicable for electrical apparatus for explosive gas atmospheres.
Part 0 (general requirements) & part 1 (intrinsic). The approved explosive protection
rating of this equipment is suitable for use in Zone 1 hazardous area.
Group I (coal mines) underground & Group II (surface).

Features
• DC Voltage Basic Accuracy 0.08%
• 4 Digit 10,000 counts large easy to read Backlight LCD display
• Fast Measurements, 5/sec; Fully Auto-Ranging
• Logic & Line Level Frequency
• Logic Level Duty Cycle Readings & Diode Tester
• Fast Audible Continuity
• Auto Power Off
General Specification
• Sensing : AC True RMS
• Display :
9999 Counts : ACV, DCV, Hz & nS
6000 Counts : mV, mA, mA, A, Ohm & Capacitance
• Update Rate :
Digital Display : 5 per second nominal;
41 Segments Bar-graph : 60 per second max
• Low Battery : Below approx 7V
• Operating Temperature : 0°C to 45°C
• Relative Humidity : Max. 80% R.H. for Temperature up to 31°C decreasing linearly to 50% R.H. at 45°C
• Pollution degree : 2
• Storage Temperature : -20°C to 60°C, <80% R.H. (with battery removed)
• Altitude : Operating below 2000m
• Temperature Coefficient : nominal 0.15 x ( specified accuracy)/°C @ (0°C ~ 18°C or 28°C ~ 45°C), or otherwise specified
• Power Consumption : 5mA typical
• APO Timing : Idle for 30 minutes
• APO Consumption : 50mA typical
• Power Supply : Single 9V battery
• Weight : Approx. 635gm with holster
• Dimension : 208(L) x 103(W) x 64.5(H) mm with holster