Portable Multi Gas Detector (Explosion Proof Grade )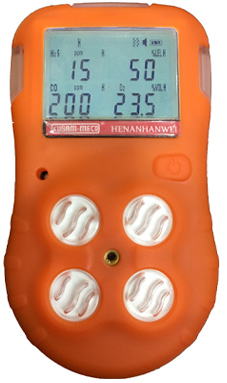 Model - BX-616
Features
• Natural diffusion sampling method and high-sensitivity sensor, with high sensitivity and repeatability.
• CSTN colorful LCD, large & clear.
• Compact design, easy carrying.
• High strength engineering plastics and compound
anti-slippery rubber; high strength, water-proof,
dust-proof and explosion-proof.
• Applicable to gas leakage underground tunnels, mines, pipelines etc.
• 100,000 records storage capacity including peak value.



Electrical Specifications
• Detecting Gases : LEL, H2S, CO, O2
• Gas sampling method : Natural diffusion
• Flammable Gas, O2, CO, H2S : T90 <30s
• Gas sensor type : Catalytic or electrochemical
• Accuracy : ± 5% FS (LEL) / ±5ppm (toxic gas)
• Response Time : ≤30s
• Indication : LCD displays real-time and system status.
• Charging time : ≤ 6h
• Working time : 8h hours (without alarming)
• Gas Sensor Life : 2 years
• Explosion-proof grade : Exia II CT3
• Protection Grade : IP66