Portable Single Gas Detector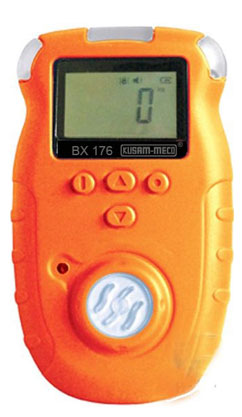 Model - BX 176
Features
• Advanced MCU control with low power consumption.
• Large LCD display.
• Adjustable low and high alarm level .
• High concentration protection for combustible gas.
• Self test for the combustible gas sensor.
• Low voltage alert.
• Real time clock display.
• Replaceable sensor module.
• Self-adjustment function.
• Visual and audible alarm with vibration.
• Data logging and uploading.
• STEL and TWA alarming for toxic gases.
• Advanced self-examination and self-renovation function.
• Password management to avoid wrong operation.
• Intrinsically safe design.



Specifications
• Target gas: Combustible gas, O , toxic gas, NH , NO , SO , H , Cl 3 2 2 2 2
• Accuracy: ≤ ± 5% F.S.
• Measurement Range: 0-30%
• Response time: T<30s.
• Indication: LCD indicates the time and state.
• Indication of alarm, fault and low voltage with LED, sound, vibration.
• Operating temperature: -40℃~70℃ (for combustible gas)
• Operating temperature: -20℃~50℃ (for toxic gas)
• Humidity: < 95%RH non-condensing
• Operating voltage : DC3.7V, Lithium battery.
• Charging time: 4~6 hours
• Sensor life: 2 years
• IP rating: Ip65
• Weight : about 125g (including battery but without accessories)
• Dimension : 104.0mm×60.8mm×30.5mm