DC handheld resistance tester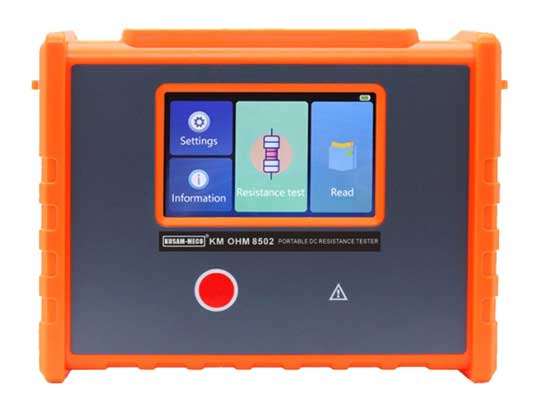 Model KM OHM 8502

Handheld DC resistance tester, also known as transformer DC resistance tester, DC resistance fast tester, ground continuity tester, adopts microprocessor technology, four-wire method for testing, safe, precise and reliable. Mainly used to measure the resistance of transformer windings, transformer winding resistance, grounding down conductor continuity test, cable wire resistance, switches, connectors, contact resistance of relays, coils, motors, and equipment casings, lightning protection belts, and ground Connection resistance test between metal components of beams, structures, cabinets, steel bars, water pipes, windows, guardrails, radiators, assembly lines and other objects. It is widely used in telecommunications, electricity, meteorology, computer rooms, oil fields, power distribution lines, tower transmission lines, gas stations, factory grounding grids, lightning rods, etc.

Handheld DC resistance tester is composed of a host, monitoring software, test lines, communication lines, etc. The handheld and portable design of the host is convenient for on-site application, with charging function, no need to find electricity on site, full-color large-screen LCD display, clear at a glance, convenient and easy to use touch screen operation, and port overload prevention function. Large-capacity storage of 500 sets of data, resistance measurement range : 10.0mΩ-50.00KΩ, measurement accuracy : 0.2%. The upper computer software has functions such as historical data reading, consulting, saving, and reporting.

Technical Specifications :
Function: : Is mainly used for measurement of transformer dc resistance, transformer winding resistance, network connectivity, cable conductor resistance, contact resistance of switches, connectors, relays, winding, motor, transformer winding resistance and metal riveting resistance, metal component coupling between resistance test, low resistance testing, contact resistance testing, etc.

• Resistance range : 10.0 μΩ-50.00 KΩ
• Resolution ratio : 0.1 μΩ
• Precision : ±0.2%FS±10dgt
• Detection method : The four-wire test
• Measuring current : 10Aˎ5Aˎ1Aˎ0.1Aˎ10mAˎ1mA
• Maximum short circuit current : 10A
• Overload protection : Yes
• Self discharge : Yes
• Power : DC12.6v 2500mAh large-capacity lithium battery
• Charging function :Yes
• Back light : Yes, suitable for dark places
• Display mode : LCD Full-color display
• Overflow shows: The "OL" symbol is displayed when the overrange overflow occurs
• Touch screen operation : Yes
• The LCD size Length and width: 108mm×65mm
• Size of instrument: Length, width and height: 240mm×188mm×85mm
• The test line length 5 meters, 1 red, 1 black
• USB interface W ith USB interface
• Line of communication 1 USB communication cable
• Data storage 500 groups
• View Data Data access function

Manual Online View Catalog Send Enquiry