Combustible Gas Leak Detector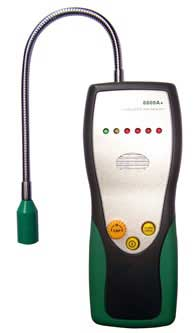 Model - KM 5540EX
General Specifications
• CNEX Ex ib IIB T4 GB approved.
• High Quality Japanese sensor.
• Anti-explosion 3.7V 1500mAH Li-ion battery equipped.
• Instant sensor failure indication.
• Easily check the status of alarm devices (buzzer, LEDs).
• Built-in temperature compensation to provide excellent environment independency.
• Audible ticker signal & visual leak size indicator.
• Adjustable sensitivity, fast warm-up, low battery indicator.
Specifications
• Detection :
Methane (LNG,CNG), Ethane, Propane, Butane,
Acetone, Alcohol, Ammonia, Steam, Gasoline, Jet Fuel,
Hydrogen Solvents, Lacquer Thinner, Naphtha.
• Sensor : Planar semiconductor (Japan sensor).
• Warm up time : <30 seconds.
• Sensitivity : adjustable, as low as 5ppm (gasoline).
• Alarm mode : Sound, light.
• Operating Temperature & Humidity : 0°C ~ 50°C; 10% ~ 90%RH.
• Temperature Compensation : Yes
• Alarm device inspection.
• Sensor failure indication.
• CNEX Category : Ex ib IIB T4 Gb.
• Low Battery Indication.
• Power Supply : CNEX approved Li-ion 3.7V 1500mAH battery.
• Weight : approx. 220g.
• Dimension : 275 x 70 x 30 mm.
• Accessories : Instruction Manual, Battery, DC Power adaptor & Carrying Case.
Manual Online View Catalog Send Enquiry