Analogue Earth Resistance Tester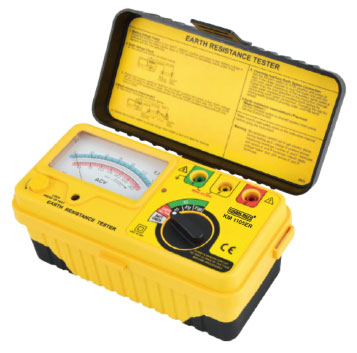 KM 1105 ER
Features

• Capable of measuring earth resistance and earth voltage.
• 2mA measuring current permits the testing of earth
resistance without tripping earth leakage current
breakers in the circuit under test.
• In addition to facilitating for precision measurement,
test leads for simplified two-wire measuring system
also are supplied as standard accessories.
• Battery operated.
• Battery life indicator.
• Calibration performed with supplied test leads.

Specifications
• Measuring ranges
Earth resistance 0-12Ω / 0-120Ω / 0-1200Ω
Earth voltage 0-30 Vac (40-500Hz)
• Accuracy
Earth resistance ± 3% of full scale
Earth voltage ± 2.5% of full scale
• Measuring system
Earth resistance by constant current
Inverter 820 Hz, 2mA approx.
• Open circuit indication : LED will be unlit
• Dimensions : 175(L) x 85(W) x 75(D)mm
• Weight (battery included) : Approx. 600g
• Power source : 1.5V (AA) X 8