400A AC Digital Clampmeter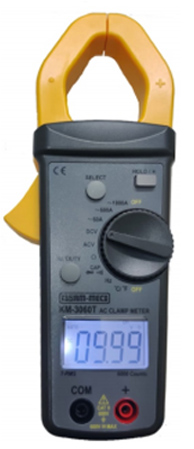 MODEL KM 3060T


Features :
• Measurement CAT II 600V AC/DC
• Altitude upto 2000 meters
• Relatively humidity 80% max.
• Pollution Degree 2
• Indoor use only

General Specifications
• Display : 3-5/6 digits liquid crystal display (LCD)
Max. Rading 5999. Automatic indication of
functions and symbols.
• Jaw Size : Cables Φ36mm
• Maximum Voltage between any terminal &
Earth ground 750 Vrms.
• Operating Temperature : 0~40°C
• Operating Principle : Dual slope integration
• Over Range Indication : LCD will show a "OL"
in the highest position accompanied. (except
for ranges of 1000A AC, and
1000VDC or 750VAC)
• Low Battery Indication : The is displayed when the battery voltage drops below the operating voltage.
í Sampling rate : 2.5times/sec (Digital Display).
í Battery Life : 60hrs approx.(Alkaline)
í Polarity : Automatic polarity "-" display for negative input
í Auto Power Off : The meter is powered off 15 minutes
later after the last operating was made. To bringe back
the display please turn rotary switch to more positions
or push any button
í Operating Temperature & Humidity :
0°C to 40°C (R.H.<80%)
í Storage Temperature & Humidity :
-10°C to 60°C (R.H.<80%)
í Power Supply : 1.5V AA x 2 Alkaline Battery.
í Dimension : 228(L) x 75(W) x 36(H)mm
í Weight : Approx. 465 gms. (including battery).

Manual Online View Catalog Send Enquiry