Intelligent Power Factor Regulator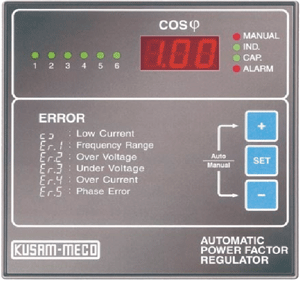 Model -KM PFR 9-6 / 9-12
Unique Features :
* The pioneers & leaders in high quality power factor controllers & maximum demand controllers, now introduce 2 new economy models of power factor controllers. These controllers have microprocessors for automatic control of power factor. It has digital indication for power factor.
* Simple Operation.
* Automatic self adjustment for C/K value.
* Three different types of Operation sequence (1:1:1:1...) (1:2:2:2...) (1:2:4:4...).
* The set data is preserved for atleast two months in the event of Power failure.