Portable Multigas Detetor KM GD-04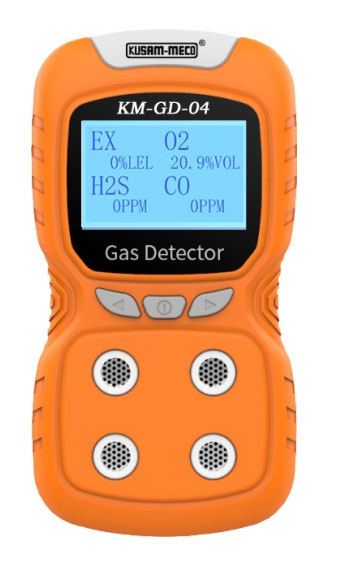 KM GD-04

KM-GD-04 Portable Multigas Detetor with alarm which is applicable for 4 Gas detection of the CO, O2, Ex, H2S, comes with the safe & reliable quality. It's with the diffusion sampling mode & can be connected with the external pump. The portable gas detector helps in the safety for the personnel working under the toxic gas in the harmful environments.

Features :
● LCD dot matrix display.
● Adjustable preset two-stage alarm level.
● With audible-visual-vibration alarm mode, also with the voice alarm.
● With a back clip, which is easy to carry when working.
● Powered by rechargeable battery with big capacity which support a long working period.


Electrical Specifications :
• Gas Type Ex, O2, H2S, CO
• Sensor Type Catalytic combustion sensor for Ex; Electrochemical sensor for O2, H2S and CO.
• Sensor Life 2 - 3 years
• Measuring Ranges
• Ex: 0~100 % LEL
• O2: 0~30 %VOL
• H2S: 0~100ppm
• CO: 0~1000ppm
• Display Information Gas types, Concentration value, Concentration unit, Time, Battery status, Alarm status, etc.
• Display Large screen LCD
• Alarm Storage With alarm data storage function, can review the data from the detector.
• Sampling mode Diffusion sampling (Available for connection with external pump)
• Alarm Mode Audible-visual-vibration alarm, sound ≥ 75 dB
• Power Supply 3.7V, 1800mAh rechargeable lithium battery, continuous working period over 10 hours.
• Explosion-proof Grade Ex ib IIB T3
• Protection Grade IP65
• Working Environment Working Temperature: -20°C~50°C
• Working Humidity: 0-95 %RH (non-condensing)
• Body Material ABS and PC
• Package Aluminum alloy box
• Dimensions 140 x 73 x 32mm
• Weight 300g (with charger)
• Warranty 1 years


Manual Online View Catalog Send Enquiry